COMIC/MANGA PAGE SALE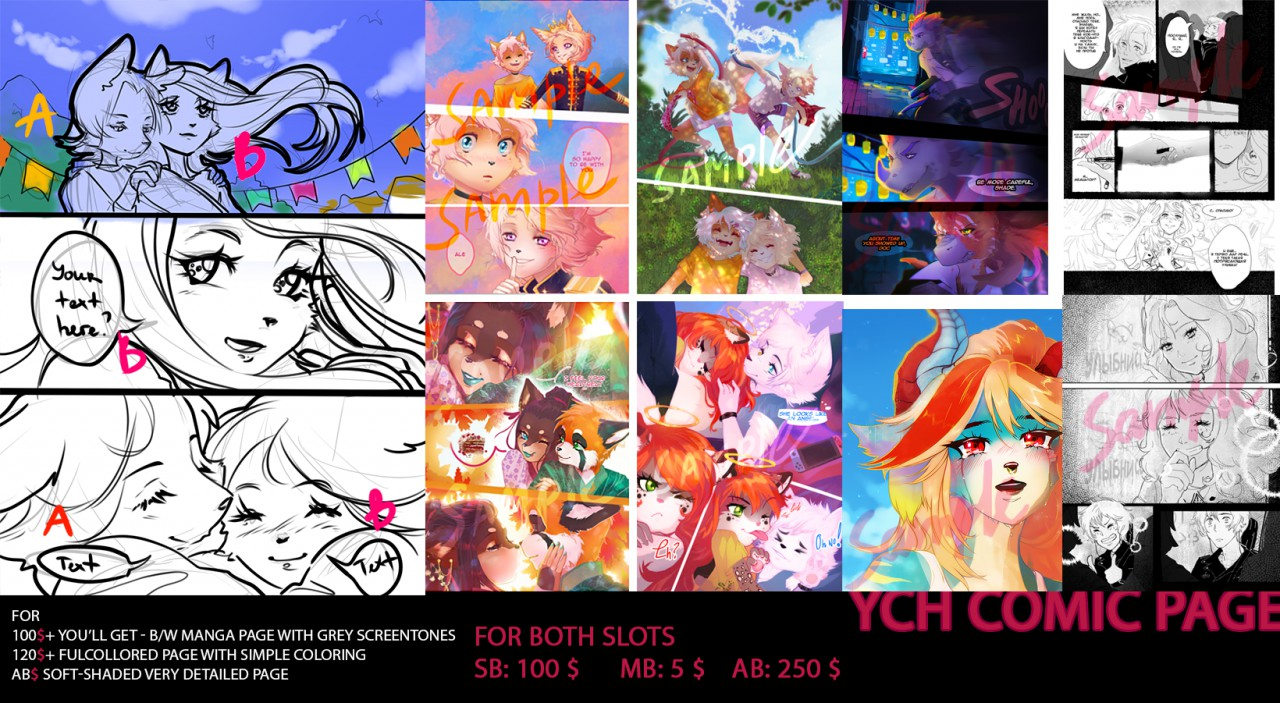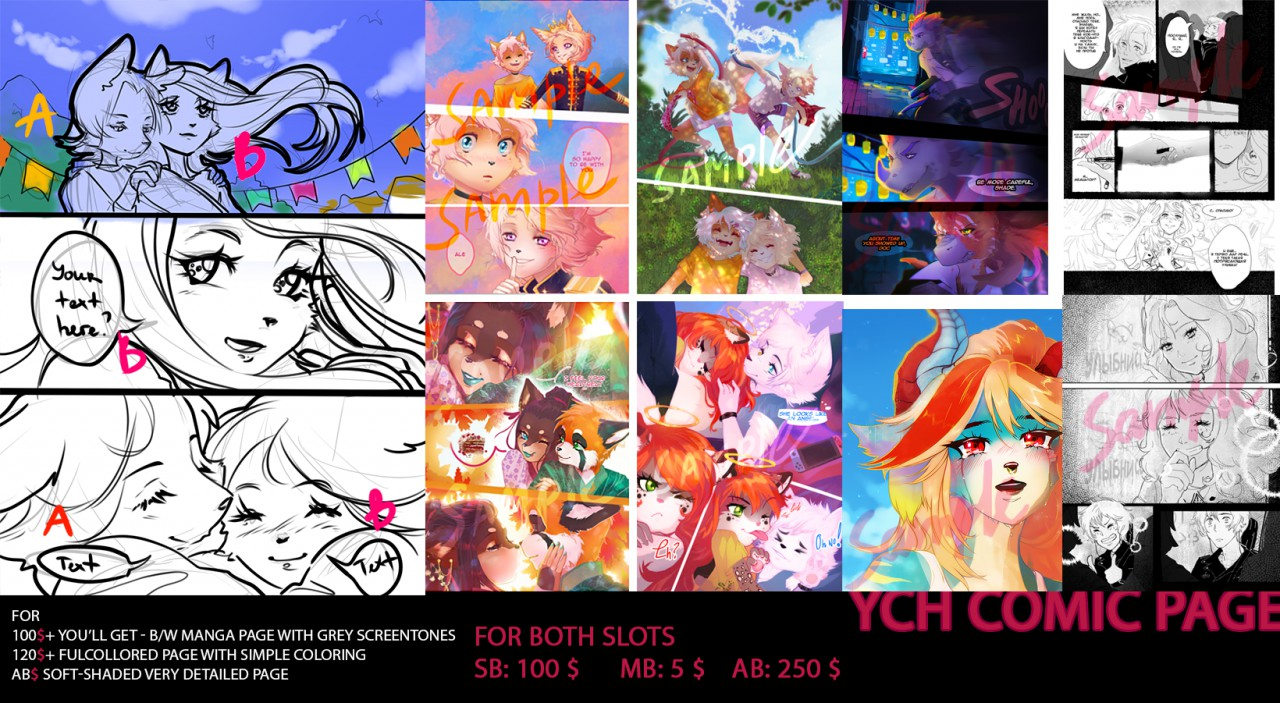 Starting Bid - $80
Autobuy - $250
WSKIEY
Unsold
Average turnaround: N/A

Artbook
This user has no current artbook images.
Description
Bids (0)
Artist Info
FA link: https://www.furaffinity.net/view/30619338/
Detailed comic page, fullcolored. You can change/add your text. Don't forget, it's just the rude sketchy work. The finished work will look much better and detailed :3 (+big size of image). Background included.
Some examples: www.furaffinity.../27270365/ www.furaffinity.../26626653/ www.furaffinity.../27799422/ www.furaffinity.../25481266/ www.furaffinity.../26490167/ www.furaffinity.../26052045/ acomics.ru/upload/ !c/SkieyW.....81mxu8un9p.jpg
For both slots:
SB: 80$
MB: 5$
AB: 250$ With AB I will add more details to your characters + very detailed bg if you want + soft-shaded coloring
FOR 80$+ YOU'LL GET - B/W MANGA PAGE WITH GREY SCREENTONES
100$+ FULCOLLORED PAGE WITH SIMPLE COLORING
AB$ FULCOLLORED SOFT-SHADED VERY DETAILED PAGE
Some general rules:
If you do not want it, do not bid!!!
Paypal - USD O N L Y Если вы из России - приму оплату на сбер, но + комиссия.
After byuing you shoul note me and send your Paypal for payment reqest, payment is valid in 24 hours after buying.
- Any species, but no feral (mb anime human girls like here www.furaffinity.../26162358/ )
- Any sex
- Any hairstyle but better long-haired (according to composition)
- I can change bra size (no fetish (too big breasts) pls!)
- I can change the character's expression if you prefer something different and make 'muzzle' a little bit longer/shorter!
- No NSFW
- Your text
- You can change face expression and outfit
- Bg is up to you -- choose starry night or bluesky day or beautiful sunrise
- For AB you can completely change BG conception
- Ready or custom outfit
Please consider:
- NO acid colours please! (or I'll mild your colour palette a little)
- I can change muzzle expression
- I don't draw mature content, though some erotic content is allowed. I don't draw: NSFW, guro, creepy/demons/zombie/etc (
except vampires), fetishes (BBW, paw, muscles, pregnancy, hyper etc).
*Please ask me if you have any other questions!
Please send your reference to me in your note, after notice that you win.
Payment must be sent within 24 hours.
Your YCH comission will be done at ~5 days (as soon as possible) after payment in the order that you can see in my profile.
Auction ends 4 days after the last bet on each slot!
Thank you!
There are no current bids. Be the first!
Badges
Statistics
Currently running auctions
0